Reading Time:
< 1
minute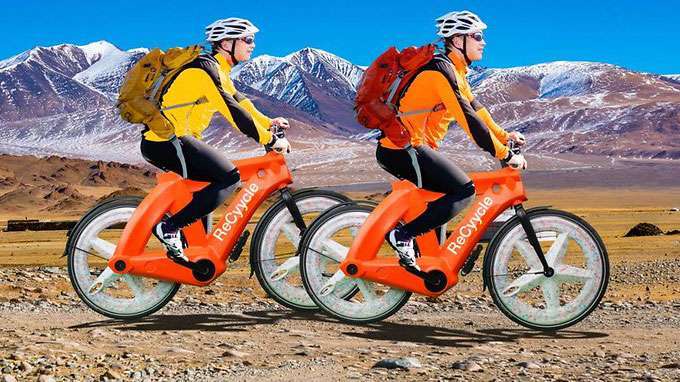 A bicycle made entirely of plastic: That would be a remarkable technological achievement and would have benefits for the environment. A Cologne-based company now wants to give it a try.
At plastics manufacturer Igus, the word "re-cycling" takes on a new dimension. The Cologne-based company wants to make a bicycle completely out of plastic.
This would have several advantages.
Plastic bike better for the environment
And finally, the company's plastics have a good eco-balance, says Managing Director Frank Blase. For example, they use 50 percent less crude oil than steel and 70 percent less crude oil than aluminum.
ကြော်ညာ




On the other hand, it is a technical challenge to manufacture a bicycle entirely from plastic. There are indeed manufacturers who produce bicycles or even cars partly with plastics from 3D printing. But it is not easy to replace all metal components with them. But that's exactly what Igus has in mind.
After all, the company also brings expertise in 3D printing. Igus produces gear wheels, ball bearings and robots in this way. So now a bicycle made of plastic is to be added.
More resistant to rain
Frank Blase came up with this idea when he noticed how quickly bicycles rust near the coast. A plastic bike would be more durable in wet weather. And so Igus teamed up with Dutch start-up Dutchfiets.
The company already makes bicycles whose frames are made entirely of recycled plastic. The start-up has also managed to replace the steel chain with a plastic belt. However, metal parts are still used in the handlebars and seat post, for example. This is precisely where Igus wants to come in.
ကြော်ညာ




The plastic bicycle is to be developed in a planned innovation center in Troisdorf near Cologne. The first prototype could be ready by the end of the year.
ကြော်ညာ
ကြော်ညာ တွေဆိုတာ အောက် ပြတဲ့ ဟာတွေဖြစ်တယ်။ ကလစ်ပြီး သူတို့ website မှာ အနဲဆုံး ၁ minute လောက်နေပေးပါ ကြော်ညာ 2

++++++++++++++