Reading Time:
2
minutes
iPaidThat is a French startup based in Barcelona, Spain and was founded in 2016. Its main goal is to helps entrepreneurs finance managers to automatically collect their invoices through bots.
I am interested about iPaidThat and then I had a chance to do an interview with Sébastien de Bourgies, marketing manager of iPaidThat.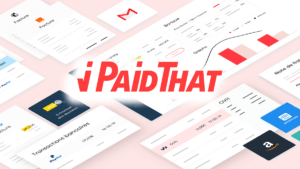 Techlist: What is IpaidThat? How it works?
ကြော်ညာ




Sébastien: IPaidThat is a software using artificial intelligence and machine learning to collect all your invoices automatically in your mail box. With our partner Bankin, we also collect your banking operations, so then we are able to compare all the datas to see if there's something missing, and then create your accounting entries. In one click. This process highly facilitates your job and the one of your accountant. You're no longer bound to search everywhere for missing documents or the relevant banking operation lines, because our software makes it for you.
In addition to these functionalities, our webapp allows all your employees to scan their expenses bills, which are automatically connect to your account then. To finish, an other feature of our website allows you edit invoices very easily for your clients.
Techlist: Who are your targeted clients?
Sébastien: We mostly work with small and medium size businesses but also with some startup companies that already reached the need of digitalising administrative tasks.
In addition, we have accounting firms that use our software to automatically get all documents and informations they need from their clients.
ကြော်ညာ




Techlist: Your startup was founded in 2017, during this year what are the most challenging parts for your startup?
Sébastien: It's very exciting to see the company growing day by day, with more clients, partners, but also more employees.
The most challenging parts would be creating a MVP and marketing it, adapting his service and dealing between the web developers and business developers visions. Then, raising funds and create a team are both great challenges.
Techlist: I want to ask a final question. Can you tell me three advantages of starting a new startup in Spain?
ကြော်ညာ




Sébastien:
The startup ecosystem is rich and powerful
This is an ideal starting point to expand your business in Southern Europe
The life quality is awesome (standards of living, vibes and climate)
Source: TechList.EU
ကြော်ညာ
ကြော်ညာ တွေဆိုတာ အောက် ပြတဲ့ ဟာတွေဖြစ်တယ်။ ကလစ်ပြီး သူတို့ website မှာ အနဲဆုံး ၁ minute လောက်နေပေးပါ ကြော်ညာ 2

++++++++++++++